DRAFTING SERVICES
STRUCTURAL AND MISCELLANEOUS STEEL DETAILING
Draftsman, draftsperson, detailer, and designer
JV Latona Drafting offers drafting services from experienced and expert steel detailing service company based in America that provides innovative structural and miscellaneous steel detailing solutions for residential, commercial and industrial sectors. We act as an alternative to the in-house steel detailing team for our American clients and support them in their virtual steel detailing drawings. Our skilled and experienced steel detailers are adept in providing efficient and cost effective steel detailing services and well versed with international standards and regulations to accomplish your steel detailing needs. Our goal is to build a long-lasting business relationships with our American clients based on exceptional steel detailing services as we continuously strive to meet and exceed our customer's expectations. We typically service steel fabricators, architects, or engineers through out the United States although our focus is mostly in the middle of the country like Wisconsin, Illinois, Michigan, Indiana, Ohio, Kentucky, Missouri, Iowa, and Minnesota, but we have also been know to do jobs in Texas, Oklahoma, Arkansas, Louisiana, Mississippi, Alabama, Georgia, North Carolina, South Carolina, Tennessee, and Florida. No job is too big is too small and we welcome work from any state for any project from balcony railings to guard rails, metal decks, columns, stairs, or any type of commercial or industrial building.
AutoCAD, Bluebeam, Design Data, SDS/2, Revit, and 3D Modeling Drafting Services
Steel detailing, or drafting services is the specification and drawing of the joints between steel columns and steel beams in any steel structure. These joints or connection are entirely responsible for the stability of the whole construction structure. JV Latona Drafting can help you effectively utilize your resources, cut down costs and achieve your company's profit goals. We need input in the form of sketches, images, photos, etc to deliver fully-editable and multi-layered steel detailing drawings in format of your choice. For more information CONTACT US!
Our American steel detailing projects include:
multi-story office buildings
schools and universities
stadiums
airports
hospitals
churches

We follow the below standards and codes:
AISC (American Institute of Steel Construction)
NISD (National Institute of Steel Detailing)
IFI (Industrial Fasteners Institute)
OSHA (Occupational Safety and Health Administration)
NOMMA (National Ornamental & Miscellaneous Metals Association)
BOCA (Building Officials and Code Administrators)
SJI (Steel Joist Institute)
SDI ( Steel Deck Institute)
AWS (American Welding Society)
ASTM (American Society of Testing Materials)
ACI (American Concrete Institute)
CRSI (Concrete Reinforcing Steel Institute)
Contact us or send us an email: info@jvldrafting.com to ask for our free quotation for your structural steel detailing projects requirements. Our steel detailers will be happy and proud to be of assistance with your steel detailing and drafting services projects.
AFFILIATIONS AND MEMBERSHIPS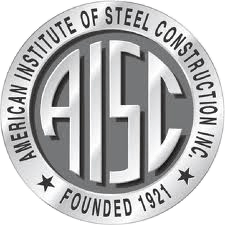 American Institute of Steel Construction
The American Institute of Steel Construction, often abbreviated AISC, is a not-for-profit technical institute and trade association for the use of structural steel in the construction industry of the United States. It is headquartered in Chicago, IL. Their mission is to make structural steel the material of choice for new structures. They supply specifications, codes, technical assistance, quality certification, standardization, and market development for its members.
AISC publishes the AISC 360 Specification for Structural Steel Buildings, an authoritative reference in the USA for steel building structure design.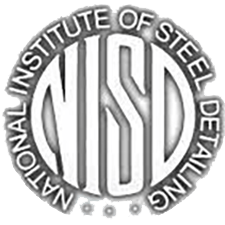 National Institute of Steel Detailing
The National Institute of Steel Detailing (NISD) is an international association that advocates, promotes and serves the interests of the steel detailing industry. We are comprised of company owners and professionals in the steel industry and offer membership to steel detailing firms and associated companies and individuals. By fostering a professional approach to business and advocating improved quality through member networking, education and certification, our members are highly regarded by fabricators, architects, engineers and contractors. Because we listen to our members and advocate for the steel detailing industry, we are the professional voice of the steel detailing industry.

Industrial Fasteners Institute
The primary reason for any company to join a trade association is to gain the collective strength and knowledge to accomplish tasks, projects, and objectives that are not practical or economically feasible for a single company. But beyond this general benefit, there are many tangible and specific benefits to be gained from IFI membership. These include:
A market-oriented membership structure
IFI's Division structure is based on where your products are used, not what specific products you produce. This promotes a closer relationship between manufacturers and their markets which, in turn, promotes a closer working relationship for resolving common issues and concerns.
Technical Support
IFI is committed to being the leader in providing fastener technology leadership. IFI members receive unparalleled technical support in product design, manufacturing practices, quality assurance, and standards development and interpretation. The IFI technical staff is deeply involved in the continuing development and evolution of the industry's standards through membership and leadership in the American Society of Mechanical Engineers (ASME), the American Society for Testing and Materials (ASTM), SAE International, the Research Council on Steel Construction (RCSC), and the International Organization of Standards (ISO).
Valuable contacts
IFI membership offers ongoing and invaluable contacts and relationships with the major players in your industry, including your peers, your customers, and your suppliers. Quite simply, it's your best opportunity to interact with your entire industry.
Timely and insightful information
IFI is your best resource for the latest news about the events, issues, and trends that impact your business. You'll also find that IFI is a substantial repository for information pertinent to the industry.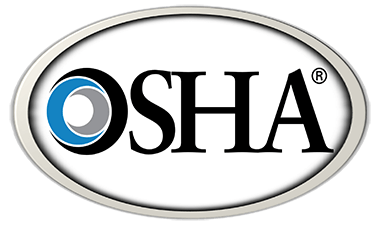 Occupational Safety and Health Administration
On January 18, 2001 (66 FR 5196) OSHA published a final safety standard for steel erection, with an effective date of July 18, 2001. A number of provisions in the final rule address the safety of certain structural components. These provisions ("component requirements") contain requirements for these components to help ensure that the structure can be erected safely. For example, there are provisions that prohibit shear connectors on members before they are erected (§ 1926.754(c)(1)(i)); require all columns to be anchored by a minimum of 4 anchor bolts, which must meet specified strength requirements (§ 1926.755(a)) (there is a comparable requirement for systems-engineered metal buildings, § 1926.758(b)); set requirements for double connections (§ 1926.756(c)(1)) (there is a comparable requirement for systems-engineered metal buildings § 1926.758(e)); require column splices to be at a specified height and meet a strength requirement (§ 1926.756(d)); require perimeter columns to have holes or other devices for perimeter safety cables (§ 1926.756(e)); in some instances require a vertical stabilizer plate to stabilize steel joists (§ 1926.757(a)(1)(i)); require certain joists to be strong enough to allow one employee to release the hoisting cable without the need for erection bridging (§ 1926.757(a)(3)), and require certain joists to be fabricated to allow for field bolting during erection (§ 1926.757(a)(8)(i)).