CAD Steel Detailing Services
From Blue Prints to 3D Modeling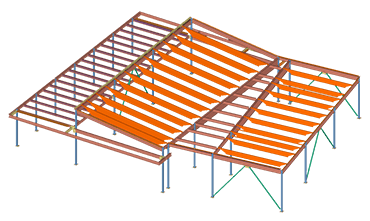 Structural Steel Detailing
JV Latona Drafting provides structural steel detailing services to architects, engineers, and fabricators across the United States.  All detailing is done in house with a quality-driven and detailed approach.  Utilizing the latest technology and CAD software allows our detailing services to help your project be successful.  We strive to detail connections that are cost effective to fabricate and erector friendly in the field.  We take your input in the form of sketches, images, photos, etc to deliver fully-editable and multi-layered steel detailing drawings in the format of your choice. Contact Us.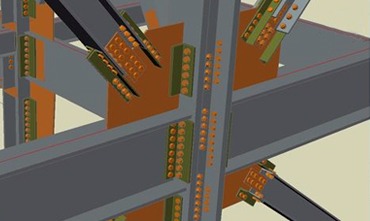 Steel Connections and Detailing
Steel Connection details are carefully coordinated between design documents, custom components in software, and AISC code requirements.  Whether your project utilizes connection sketches, standard details, or AISC standard connections we carefully detail the connections for adherence to the design.
Our skilled detailers are experienced with AISC standard connections as well as copes and block shear checks and can utilize these resources to provide shear connections that meet contract load requirements, whether that is 0.5*UDL, load charts, or reactions given. Contact Us.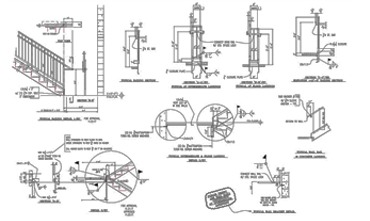 Detailing Stairs and Railings
The tread is the piece of steel that makes up the steps of the stair. The stringers support the ends of the treads. The supporting beam supports the stringer or the dog leg (if it exists). A dog leg is needed when a viable connection cannot be made to the supporting beam directly from the stringer. The dog leg can be the support for the landing at the top of the stair, if one exists. The rise is the vertical distance between two consecutive treads. In order for the stair to be set up properly, every corner of every tread should pass through a single line. That line is called the nosing line, and the corner points on the tread through which the line traverses are called the nosing points.
Stairs can be detailed manually in 2D, or automatically in 3D. Although complex, manual drafting is very common and is widely used. Automatic detailing of stairs in 3D is becoming increasingly common because it is simple and fast, helps the checker (because the stair can be visualized in 3-D), and ensures a good fit and subsequent ease of erection. JV Latona Drafting specializes in stair detailing. Contact Us to find out more.